Posted Date:
Wednesday, October 26, 2016
Even Tracy Moore would approve!
Pumpkin Pot
Take those old pumpkin candy holders from drab to fab. Get started.
Frankenstein Front Door
An easy but awesome way to add some Halloween to your front door.
Bouquet of Shrunken Heads
Here's a Halloween deco project so creepy you'll loose your head over it! Why not try displaying them in a vase ir sticking them your existing planters. Instructions here.
Skull Centerpiece
Who knew a skull could be such a ghoulishly perfect vessel! Get the instructions.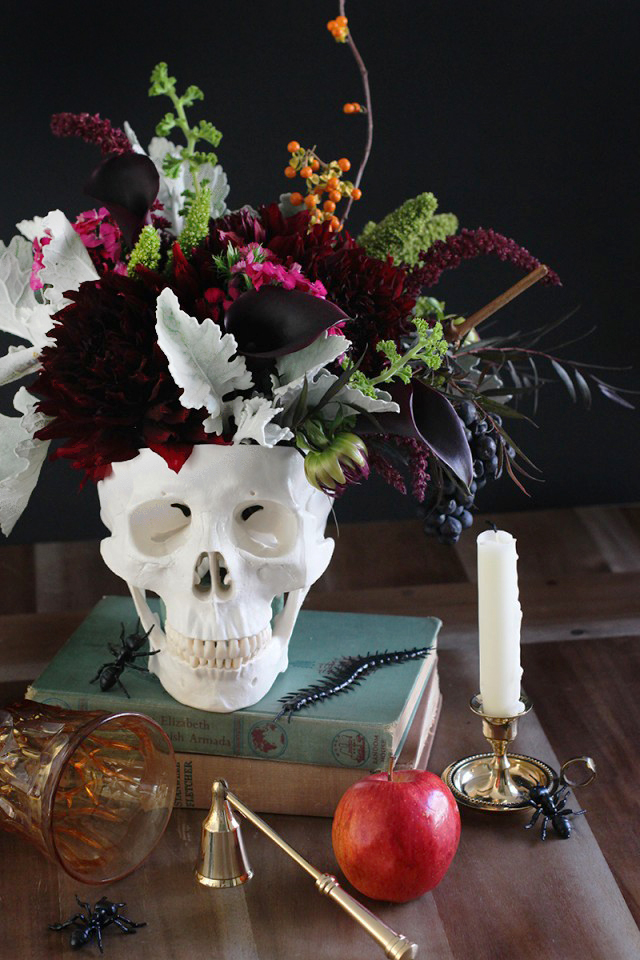 Yarn Pumpkin Garland
These little yarn pumpkin garlands will look sweet adorning your mantel throughout the fall! Get the tutorial.
DIY Skull Candle Holder
A DIY knock off something you'd see at a hoe goods store for ⅓ the price! Get started.
Fanged Pumpkin
Grouped together on the mantel, Drac-o'-lantern and tiny winged pals create a Transylvanian scene. Run-of-the-mill pushpins turn into devilish red eyes. Here's how to make them.
DIY Halloween Poison Bottles
A ghoulishly great and stylish way to make use of those extra bottles. Tutorial here.
Halloween Wreath
Great for fall and easily converts to Halloween! Learn how to make this easy wreath here. 
Bleeding Halloween Candles
Transform dollar store candles into bleeding votives that really set the tone for an eerie evening of Halloween fun. Here's how to make them.